What the Walt Disney Company does to reduce their environmental footprint and encourage and practice conservation.
"Conservation isn't just the business of a few people – it's a matter that concerns all of us." Walt Disney
Disney has always been mindful of their environmental footprint. They have an entire theme park dedicated to conservation and education.
Animal Kingdom theme park, the fourth gate at Walt Disney World opened on Earth Day 1998. This park is former Disney Imagineer Joe Rhode's brainchild and pays strong mind to environmental awareness and conservation. Animal Kingdom is the largest theme park in the world at 580 acres.
Animal Kingdom is more than just a theme park. Here's how Animal Kingdom and Disney educate and leads by example. Through support from guests and The Walt Disney Company, since 1995, the Disney Conservation Fund has directed more than $75 million to save wildlife and protect the planet in 120 countries and inspired millions of people to take action for nature in their communities.
Did you know that nearly 1/3 of Walt Disney World® Resort (more than 8,000 acres!) has been permanently set aside for wildlife conservation?
About 80% of Walt Disney World® Resort's irrigation requirements are met with reclaimed water—saving more than 2 billion gallons of drinking water. That's enough to fill Spaceship Earth, the sphere in Future World at Epcot®, roughly 129 times!
Back in 2019, Disney eliminated single use plastic straws across their entire property.
Ten rhinos, including three born in Uganda where white rhinos were previously extinct, have been born as a result of a rhino breeding program at Disney's Animal Kingdom® Theme Park. More than 300 endangered sea turtles have been nursed back to health and returned to the wild at The Seas with Nemo & Friends Pavilion at Epcot®, which houses a massive 5.7-million-gallon saltwater aquarium where Guests can learn about marine animals.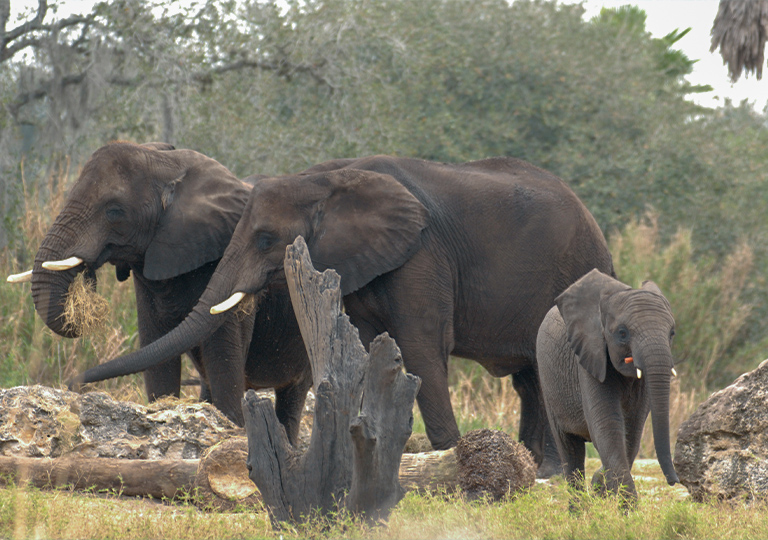 In late 2020, Disney released a slew of new environmental goals to hit by 2030.
Check out what Disney has promised.
achieving net zero greenhouse gas emissions for direct operations;
purchasing or producing 100% zero carbon electricity for all direct operations;
collaborating with industry groups and investing in low carbon fuel innovation;
investing in natural climate solutions;
implementing site-specific watershed stewardship strategies at high-impact sites;
serving 100% environmentally responsible seafood at U.S. parks and resorts;
working to achieve zero waste to landfill for Disney's wholly owned and operated parks and resorts;
new construction projects to be designed to near net zero, minimize water consumption and support zero waste operations;
ensure all paper, wood and palm oil used in Disney-branded packaging and products is from certified sustainable sources;
ensure all branded product textiles contain recycled or certified sustainably sourced content, or are made from lower impact alternatives; and
reduce the Company's plastics footprint across all businesses.
In 2019, Disney opened a new solar farm on Walt Disney World property. The farm is more than 270 acres and has half-a-million 50 megawatt solar panels. This is Disney's second solar farm and now Disney World is powered by more than 500,000 solar panels. 25% of Walt Disney World is now solar powered.
But that's not all! The giant new solar farm doubles as a habitat for wildlife, nurturing bees and butterflies. Two-thirds of the farm is pollinator-friendly and some areas will also serve as test gardens for environmental and horticulture experts. "We know [pollinators] give back to us so much so we're trying to create that habitat for them," said Rachel Smith, a conservation programs manager for Disney's Animals, Science, and Environment team.
There is so much more. Disney's Land pavilion and Seas pavilion is dedicated to conservation as well. Disney hortoculturists use innovative growing techniques to grow fruits and vegetables that are used at Disney's Garden Fgrill restaurant and also at Epcot festivals.
This only scratches the surface of Disney's committment to the environment. Disney is a massive corporation who uses a ton of energy. It's great to see the company dedicate time, energy and money to conservation.
To learn more click HERE to see some of what Disney does to make everyday Earth Day.
Thank you for stopping by. We'll see ya' real soon. Be sure to follow us on Instagram at ForLoveOfMouse, on Facebook at For The Love of The Mouse and on YouTube at For Love of The Mouse.